What's up, dudes and dudettes? Welcome back to "Mole's Main Event."  My series of pieces will discuss my top 10 favorite WWE matches of all time.  I think it's a good first run because it will give you guys a sense of what I value in pro wrestling, what I think is really "the good stuff".
Before I start my countdown, I'd like to delve into some noteworthy contests that didn't necessarily make it onto my list.  You may notice that most of them are Wrestlemania matches.  Don't really know how that happened.
King of the Ring 1998, Mankind v. The Undertaker (Hell in a Cell)
Technically, it was by no means the best match, but it does stand out as one of the most remembered.  It cemented Mick Foley as a main eventer and was one of the crazier bumps ever to be pulled on WWE programming.  The more sickening stunt was not the initial spot where 'Taker threw Mankind off the cage, but when Mankind was chokeslammed through the top of the cage onto the floor.  Because of that fall, Foley suffered a concussion, lost some teeth, which ended up on his bloody nose (great image, by the way), and still managed to finish the match (though to this day, he doesn't remember it).  This contest also had the most iconic soundbite of the Attitude Era: "GOOD GOD ALMIGHTY! GOOD GOD ALMIGHTY! THEY'VE KILLED HIM!", followed by a collective "Holy shit! Holy shit!" chant. Thanks, JR!
http://www.youtube.com/watch?v=Xz-3qp5ejXM
Here's the infamous bump and call (2:48), here's the second fall (9:10), and here's his famous smile (11:35)
Wrestlemania 8, Ric Flair v. Randy Savage (WWE Championship); Wrestlemania 24, Ric Flair v. Shawn Michaels
I can't get through any wrestling countdown without mentioning Ric Flair.  I mean, come on. He's Ric Flair. His WWE Championship match with Randy Savage at Wrestlemania 8 was excellent and to have Hulk Hogan v. Sid Vicious as the main event of that evening is just straight dumb.  His "retirement match" with Shawn at Wrestlemania 24 in the Orange Bowl was fantastic and very emotional.  He and Micheals told a great story of an old legend letting his biggest fanboy having to end his career.  Wooo!  You'll be seeing Shawn a time or two on this countdown.
http://www.youtube.com/watch?v=WDm28UlGrBU
(The Finish for Flair v. Shawn)
http://www.youtube.com/watch?v=T8El4LSqLjM
(The full Flair v. Savage)
Wrestlemania X, Bret Hart v. Owen Hart, and Shawn Michaels v. Razor Ramon (Ladder Match for WWE Intercontinental Championship)
Bret and Owen Hart were the princes of Canadian wrestling.  They were born into the business, trained by their dad, and have it in their blood.  Their match at Wrestlemania 10 was chain wrestling at its best, as their family chemistry shone bright.  It's also relatable to anyone who's ever fought with his brother.  I know I've thought about putting my brothers in a Sharpshooter once or twice.  A couple of times, I even succeeded.
http://www.youtube.com/watch?v=_cdzjtlLPKs
(highlight package for Bret v. Owen, mind the cheesy music)
Shawn v. Razor was important and worth noting for two reasons.  First, this put Shawn Michaels on the map.  Second, it was the first televised ladder match on Pay Per View.  Let's not forget that Scott Hall put on a great performance that night as well.  Their innovative work with the ladder was revolutionary, and laid the groundwork for hardcore matches in the future.
http://www.youtube.com/watch?v=_nOElTF6vbQ
(Highlight package for Shawn v. Razor)
Wrestlemania X8, The Rock v. Hulk Hogan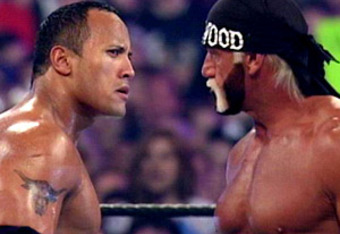 I put this match on here because I knew I'd get all sorts of heat for not having a match countdown without Hulk Hogan.  I'll let you in on a little secret, guys.  From a wrestling nerd to the masses: Hogan ain't that good.  Yes, he ate his vitamins and—actually, that rant will wait for another article.  Either way, the image itself of Rock and Hogan in the same ring is worth a mention.  My favorite facet of the match is that no matter how much JR and The King pressed that Rock was the face (good guy) and Hogan was the heel (bad guy), the Toronto Skydome was rumbling at its foundation with Hogan chants.
http://www.youtube.com/watch?v=0A12EJ0Fe9A
(Highlight package for Hogan v. Rock)
Wrestlemania 21, Shawn Michaels v. Kurt Angle
Oooohohohoh baby. This was good.  Granted, it started out slow, but once it got rolling, you were on the edge of your seat.  Shawn and Kurt are so good at storytelling and getting the crowd involved, and their match in LA for Wrestlamania 21 was more fun than a barrel full of monkeys.  The last 10 minutes are breathtaking.
http://www.youtube.com/watch?v=NhuI9HE-lNA
(Highlight package for Shawn v. Kurt)
Tune in next time, when I'll actually begin the countdown.  Until then, later-hosen!